Outdoor LED displays are the future of outdoor advertising and lighting, offering a unique and captivating way to enhance any outdoor space. They are versatile, efficient, and provide exceptional brightness, color accuracy, and image quality, making them the perfect choice for businesses and individuals alike.Want to see more outdoor LED display cases? Whether you're looking to advertise your brand, bring attention to your storefront, or simply add a touch of elegance to your outdoor environment, our high-performance LED displays are the solution. In this guide, we'll take you through the many benefits of choosing LED displays for your outdoor space, and help you find the right display solution to suit your needs. So why wait? Brighten up your outdoor space today with our top-of-the-line LED displays!

What are the characteristics of outdoor LED display?
1. Brightness and Viewing Angle: Outdoor LED displays are often exposed to bright light and need to have a high brightness level to remain visible. Additionally, the viewing angle of the display is important for ensuring that the content is easily visible from a variety of positions.
2. Weather Resistance: As outdoor LED displays are placed outside, they need to be able to withstand harsh weather conditions such as rain, wind, and extreme temperatures.
3. Maintenance and Serviceability: Maintenance and serviceability of outdoor LED displays are crucial, as the displays need to be operational for long periods of time. This includes the ease of accessing the displays for maintenance, as well as the availability of spare parts.
Power Efficiency: Outdoor LED displays need to be energy efficient as they may be in use for long periods of time. Additionally, power efficiency helps to reduce operating costs and increase the longevity of the display.
Content Management: Content management is an important aspect of outdoor LED displays, as they are often used for advertising or public information. This includes the ability to remotely update the content, scheduling of content, and the flexibility to display different types of media such as video, images, and text.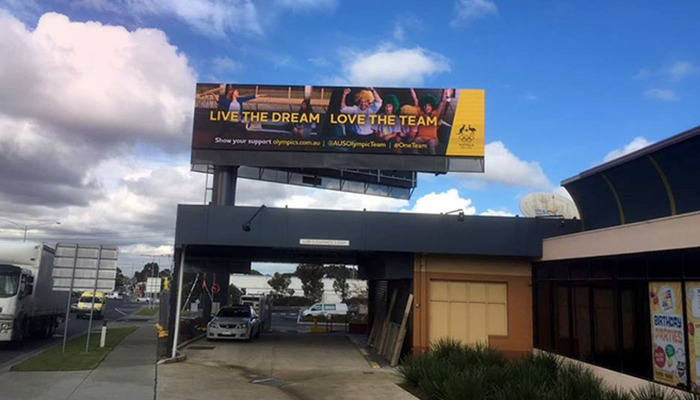 "Brighten Up Your Outdoor Space with Our High-Performance LED Displays" - Give your outdoor space the wow factor it deserves with our stunning LED displays. Designed with the latest technology, our displays are made to bring out the best in your outdoor space, providing a stunning visual experience for everyone. Whether you're looking to enhance your business or just add some extra brightness to your home, our high-performance LED displays are the perfect solution. And with their long-lasting durability, you can enjoy bright and beautiful lights for years to come. So why wait? Brighten up your outdoor space today with our outdoor LED display!